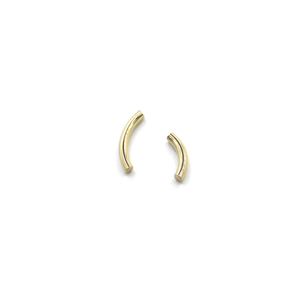 Lean In - Brass and silver stud earrings l A Bird Named Frank
Regular price R 490.00 Sale
Made for girls who like kissing.
Polished solid bent brass with sterling silver pins for your sins. 
Large stud measures 25mm by 3mm. Small stud measures 15mm by 3mm.
Please take note of the following to ensure that what you purchase is what you are expecting on delivery. We wish that we could guarantee that the colour of the metals in real life will match the colour settings of your screen, however due to the variability of screen colour settings we cannot. That being said polished brass and sterling silver are familiar to everyone.
Like all metals, both silver and brass develop a natural patina over time. Some people prefer this natural matt finish. However, if you prefer your jewellery bright and shiny, all products come packaged with care instructions and a special polishing cloth for maintaining both the colour and shine of the metals.